Business coaching can significantly enhance individual and business performance by facilitating the development of business owners and senior leaders through sessions with a business coach. This comprehensive business coaching guide will explain what working with a business coach is all about and how it can help you and your business.
What is Business Coaching?
Business coaching is a service provided to leaders, executives and managers to help them enhance their performance and improve organisational success. At the core of business coaching are goal-setting and strategic planning to provide a solid framework for the coaching activity.
Business coaches provide excellent support and impartiality; they have no agenda other than the business's success that is paying them. Because if the business coaching relationship is unsuccessful, the client will not re-book them.
If you work in senior leadership or are a business owner, you will know the truism of the phrase:'it is lonely at the top.' However, that can be different when you have a business coach you trust.
Your coach will work to get to know you and how your business operates because they have to learn this information to tailor individual coaching sessions for the best outcomes.
Depending on the coaches' specific skillset, they may also be sufficiently experienced to mentor you in the skills and behaviours required to succeed in your industry.
Business Coaching and Mentoring
Our tailored business coaching programmes are developed to meet your needs as an individual and support your organisational goals. We have a record of delivering business coaching success to senior leaders, business owners and managers throughout the UK.
We have business coaching packages to suit all businesses and individuals looking to advance their careers.
Speak directly to a business coach today to find out more.
The Benefits of Working with a Business Coach
Your Business Coach Will Help You Plan Strategically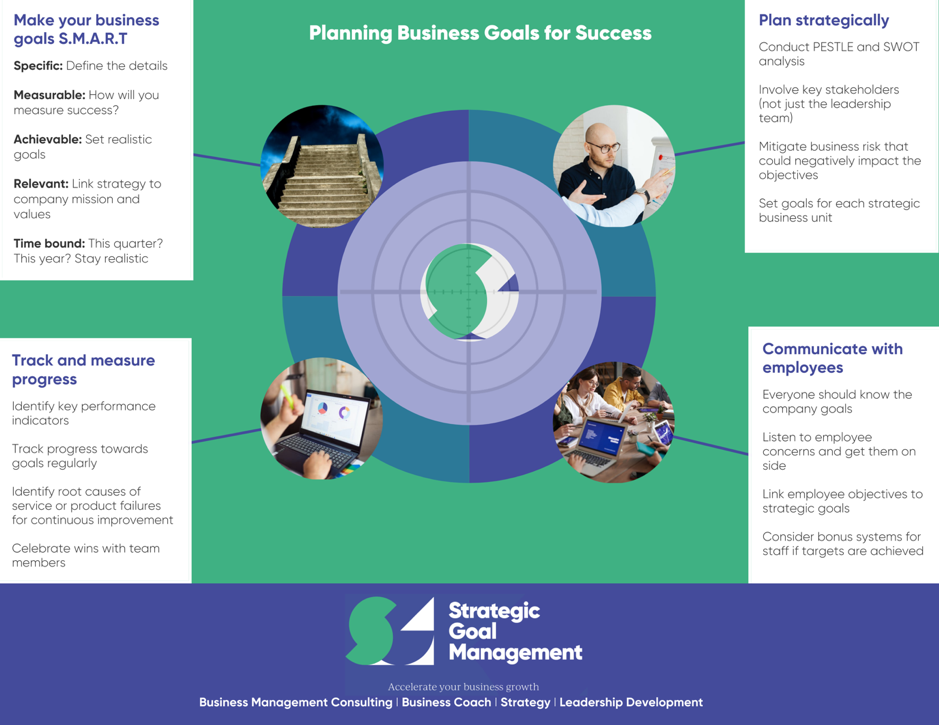 One of my most important roles as a business coach is to help clients create long-term strategic plans that outline objectives and support business plans. Business coaches help identify and set realistic milestones to measure progress and motivate our clients. Our company is called Strategic Goal Management Consulting because setting and achieving personal, and business goals are at the core of what we aim to provide our clients. We don't just set goals. We develop strategic plans to help you execute and deliver the goals.
Mentorship Supplements Business Coaching
Your coach can also be your business mentor; they may have business leadership experience that enhances your coaching sessions because they can help you learn from their and other people's mistakes.
As a former Managing Director, Service Delivery Director and Head of Operations, I have achieved tangible and noteworthy success as a senior business leader. I have vast experience running businesses at the strategic level, and consequently, my services as a mentor are often complimented by my clients; they know that I have been in their shoes.
I know companies' challenges in the current economic climate because I have experienced scaling business growth through a global pandemic. This knowledge can help my clients through stress, difficulty and financial hardship.
Coaching Can Develop Your Leadership Skills
Leadership is essential for all businesses to succeed. A crucial role of a business coach is helping teams develop strong leadership skills to ensure that you have the right talent set to manage people, groups and projects effectively. These organisational skills make it easier to deploy new ideas and drive change with less risk or disruption to business-as-usual activities.
Coaches can deliver customised workshops, mentorships, and group discussions to help employees learn how to communicate better, handle difficult conversations confidently, solve problems collaboratively, and delegate responsibilities effectively.
Your coach can teach you how to communicate effectively with colleagues, employees, customers, and other stakeholders while building trust and respect throughout the organisation.
Improve Work Performance with Business Coaching
A business coach can help you identify gaps in performance levels within your company and assist in developing initiatives to improve employee productivity. One such vehicle for this is by conducting a training needs analysis.
We can help use current industry trends and our expertise to build personal development plans tailored to your unique needs and can implement the same process for key staff members.
Business Coaching can Reframe Problems into Opportunities for Improvement
As a business coach, I can assist you with understanding the causes and consequences of business issues and providing guidance on addressing them. Coaches provide an outside, unbiased perspective that can help identify solutions that could be more obvious from inside the company. Moreover, finding the problems should be seen as an opportunity to improve the business rather than a negative issue. Key to my process is to work with companies to improve by developing a learning culture. Focusing on continuous business improvement and learning lessons is far more beneficial than toxic blame for individuals that make mistakes.
Coaching for Your Business can Create Strategies for Growth.
Coaching can also help business owners create strategies for efficient growth to reach their desired goals quickly. In my previous role as an MD, my digital marketing and SEO strategy enabled us to beat national and local competition for essential services. This gambit led to a massive increase in web sales to over £1.4m in nine months in 2022.
Business Coaching can Boost Financial Performance.
Sound financial management is essential for the success and growth of business enterprises. Opportunities for cost reductions and revenue generation are always available but must be identified and acted upon quickly before they disappear or multiply into more significant problems later. Business coaches have experience with this type of analysis and can advise on strategies for managing cash flow more effectively and reducing overhead costs successfully.
Furthermore, we have established networks of trusted partners that we can recommend for services such as HR, health and safety and accounting.
Business Coaching can Enhance Your Networking Possibilities.
A successful business requires good connections and internal and external relationships (customers) to generate maximum returns or success. We are well-versed in building networks through introductions and referrals, which opens up new opportunities for our clients across multiple industries.
Your Coach can help you with Marketing Strategies
Creating effective marketing strategies is critical in today's competitive environment as it could mean the difference between success and failure depending on the market conditions. Having an experienced advisor who understands the most efficient ways to reach potential customers and how to conduct a robust analysis of your competitors.
I have the experience to help companies maximise their connections with the right audience at minimal cost while yielding desired sales results. A coach with a good understanding of digital marketing, such as myself, will be an invaluable resource to utilise as required.
What is the Difference Between Coaching & Mentoring?
"Coaching guides people on their goals and aspirations and tries to unlock maximum potential."

"Mentoring is passing on knowledge, expertise, and experience to develop the individual."

Michael Vincent – Business Coach – Strategic Goal Management Consulting
This section has been added because some business coaches only provide motivation and mindset training. We are certainly not writing off the effectiveness of this type of business coaching. However, a mixture of coaching and mentoring is more effective for leaders.
I have held senior leadership roles and have the expertise and experience to pass on, which is directly relevant and business-focused.
What Kind of Organisations Benefit from Business Coaching?
The short answer is simple; most company types can benefit from business coaching. Primarily this is because the coaching processes are tailored to fit the organisation and the individual being coached.
For example, at Strategic Goal Management Consulting, I coach a COO of a large logistics company, several small business owners, managing directors, and several people for career coaching. These coaching packages provide excellent value.
Why is Business Coaching Important?
Business coaching is necessary because it creates a new level of performance and productivity in the workplace. It's not just about productivity, either. With a coach as an accountability partner, your staff are more likely to achieve their goals, work better towards critical objectives and hold themselves accountable for the results.
A business coach can also help your team develop better communication strategies, learn problem-solving techniques, adopt effective leadership practices and foster collaboration among members.
Is Business Coaching Worth It?
The short answer is yes; business coaching is worth the investment. The excellent feedback that we receive from clients is a testament to this. Our coaching has made our clients more profitable and happy working in their businesses with our support. We are sure that we will give you the contact details of our clients to provide testimonials for us.
Most of the empirical research on coaching shows it to be effective. The studies have been rigorous with most designs incorporating a control vs. training group to determine the unique effect of executive coaching on job performance (De Haan & Duckworth, 2013).
What is Executive Coaching?
Executive coaching is a powerful tool that helps senior business leaders reflect on and develop their abilities, making them more successful in their chosen fields. By working one-on-one with an experienced coach, executive coaching can provide unique insights and strategies to help executives develop personally and professionally.
During executive coaching sessions, our experienced coaches work with individuals to develop the required skills to excel in their chosen field by identifying areas that need improvement and providing the tools necessary for success. With the help of your coach, executives learn to overcome obstacles and become more confident, productive and effective professionals.
Executive coaching allows individuals to enhance job performance, build leadership skills and increase self-awareness. By guiding leaders through difficult decisions and providing skilled feedback on their development process, executive coaches help executives succeed in various areas.
What do you Want to Achieve from Business Coaching?
You'll need to identify what you want to achieve from the business coaching sessions so that I can tailor our meetings to best suit your needs and the needs of your business. Nothing too heavy for the initial consultation, just an understanding of what you want to achieve and where you want to go with your career and business.
Set Up an Initial Coaching Consultation Call
Before signing up with your business coach, you should set up an initial consultation call with them. This is an essential step in ensuring that the collaboration between you and your coach will be mutually beneficial. Your consultation call should include exchanging information about each other's experience and background and discussing what you can expect to achieve together. Your coach should also provide tips on staying organised so that you can stay on track during the collaboration process.
Prepare Questions for the Coach in Advance
When you're ready for a consultation call with your business coach, you should come up with questions beforehand. This will help you get the most out of your conversation with them and ensure your needs are appropriately addressed. Some good questions include how they approach their coaching style, what their successful clients have in common, and what tips they suggest for implementing changes quickly.
By understanding how your coach works and setting clear expectations of each other, you can hit the ground running on the right foot.
The Right Business Coach for You
Michael Vincent BA (Hons) CMgr FCMI, MInstLM, MAPM, Tech IOSH
Business Coach – Managing Director
Michael is a renowned management consultant and business coach with a proven track record of helping businesses to achieve strategic goals. He is a passionate and influential leader whose knowledge of diverse business functions/principles and expertise enables companies to scale growth.
Michael is a Chartered Manager and Fellow of the Chartered Management Institute with a first-class honour's degree in Leadership and Management. He is a member of the Association for Project Management, the Institute of Leadership and Management and a technical member of the Institute of Occupational Safety and Health. Michael is currently studying on an MBA pathway.
Michael is a British Army veteran with seventeen years of service in the Army Air Corps. This experience is where he honed and developed his leadership and management skills. Latterly, he was responsible for managing complex high-tempo operations, including Apache attack helicopter ground operations in the UK and internationally.
Unlock Your Potential Through Business Coaching
We have a genuine passion for helping people to succeed in business and life. We have a proven track record of developing people and helping them achieve personal and business success. Our coaching and mentoring services continue to be tremendously effective at unlocking potential.
Working with a Business Coach is Excellent value for money
Our business coaching and mentoring service is inexpensive but provides so much value to the people we support to achieve.
Free coaching and mentoring for Ex Military
This service is free for Ex-military personnel transitioning from the military to civilian life. It is an honour to provide a free service to the people who have given us so much through their service. Our Managing Director undertakes this work personally and has successfully coached and mentored over twenty ex-service personnel into senior management and leadership roles in the last five years.
Develop the right mindset for success
We firmly believe nothing can stop you from succeeding if you have the right mindset, ambition, and drive. See our coaching and mentoring reviews below to understand what our customers think.
Proven Business Coaching Results and Very Happy clients
We are the company for you if you want to improve your business, boost your career prospects, or help obtain a new management or leadership role. Get in touch to discuss your requirements. Contact Us
Hear what our customers say about our coaching and mentoring:

"From advice and guidance in my academic studies to mock interviews and coaching sessions on leadership. The information Michael provided is at an exceptional standard. His transparency and open approach give individuals the confidence that they can also succeed."
"Michael helped me identify my strengths and weaknesses and the link to management best practices and achieving business goals. His support of my vision, coaching and mentoring has contributed to my becoming an Engineering Manager for a National transportation company. Highly recommend Strategic Goal Management Consulting Ltd."
"I was applying for a senior leadership role in the public sector, and I needed to brush up on business strategy before interviewing. Michael at Strategic Goal was brilliant, and he spent several hours teaching me how best to understand and do strategic planning. Suffice it to say I got the role!"
"I continue to regularly use Michael and his company to this day for my own professional development. Michael and his company cannot come more highly recommended."

"I recently had the pleasure of working with Michael Vincent from Strategic Goal and I am extremely satisfied with the results. Not only did they take the time to get to know my business in and out, they also provided very valuable insights and guidance on how to improve our overall business strategy. Their coaching style was supportive and tailored to my needs, which made the process enjoyable and productive. I highly recommend Strategic Goal to any business owner looking to take their company to the next level and increase profitability."

"Michael at Strategic Goal is my business coach and mentor, based in Carbrooke Norfolk. I can honestly say that his coaching has enabled me to greatly improve as a senior manager and as a person. I am so much more positive and able to deal with issues more easily. Michael is an expert in business strategy, coaching and management intervention. He is also a passionate and charismatic person that really cares about my success. I unreservedly recommend Strategic Goal Management Consulting Ltd for individuals that want to be the best they can be."

"Michael has mentored me through the years, from a junior management position to far more senior positions, he has helped me see the wood from the trees and assisted me in keeping my goals clear and my career strategy at the forefront. I cannot recommend Michael highly enough to anyone wanting to achieve their strategic objectives and needing clear and concise ways of doing so."
Insights
For further insights into business coaching, leadership and management consulting, see the resources below or listen to our Spotify podcast.
You may also find the following Business Coaching articles helpful: